Best Farmers' Market in Wisconsin? Eau Claire Downtown Farmers' Market Gets Our Vote!
By Angie & Jeff
August 9, 2023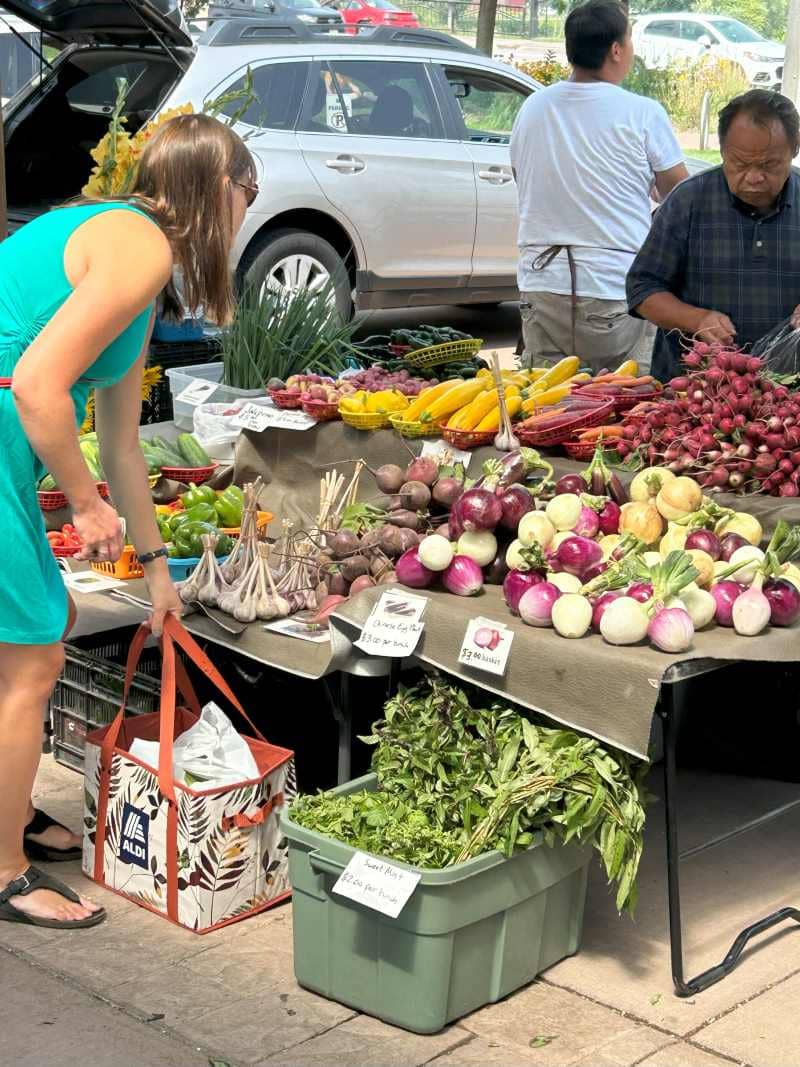 A typical booth at Eau Claire Downtown Farmers' Market.
When we're traveling, whether on just a local weekend trip or an international trip, we often spend time wandering farmers' markets. We have enjoyed farmers' markets in Greece, Germany, and Madagascar and well-known and renowned domestic farmer's markets like Highlands Square in Denver and Dane County in Madison, WI. We treat a trip to a farmers market as a fun outing, that often includes a meal or at least a treat while there, and a gathering of local food to enjoy in the upcoming week. This is in direct contrast to the chore that grocery shopping can often be perceived as.
From all of these varied Farmers' Market experiences, we have been wowed by how well the Eau Claire Downtown Farmers' Market in our hometown holds up to, and quite frankly outshines, these other markets we have enjoyed. We're really quite surprised that Eau Claire's Downtown Farmers' Market doesn't show up on more of the best farmers' markets in Wisconsin lists. We love it because it is big enough to offer an abundance of fresh local food but small enough to offer easy parking, small crowds, and an ability to have a conversation with the person who grew your food without them having to tend to long lines of shoppers. Oh, and did we mention that the prices at the Eau Claire Downtown Farmers' Market are pretty great? Let us share with you why the Eau Claire Downtown Farmers' Market gets our vote for the BEST Farmers' Market in Wisconsin. Another great reason to Visit Eau Claire!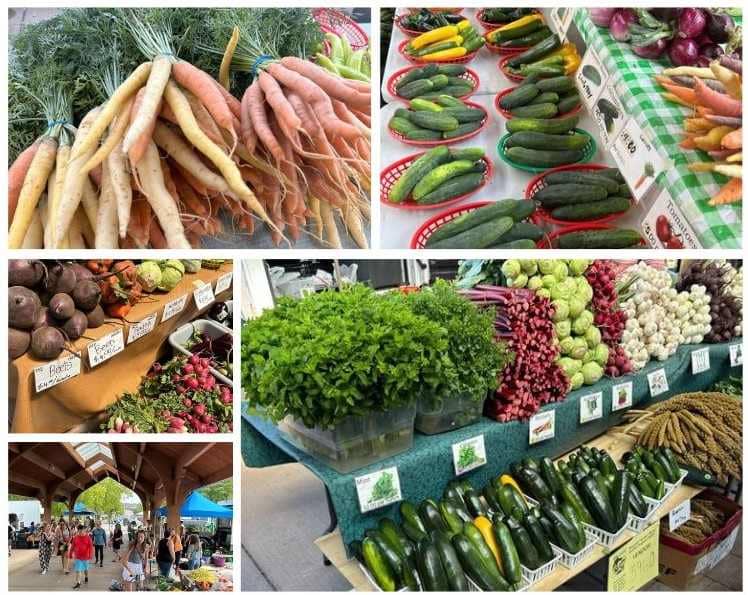 Produce at Eau Claire Downtown Farmers' Market.
The Eau Claire Downtown Farmers' Market is held every Saturday from May until October in the beautiful Farmers' Market Pavilion built in 2006 in Phoenix Park along the Chippewa River. The setting is one of the most scenic we have seen for a Farmers' Market right on the shore of the Chippewa River. The market also offers Wednesday and Thursday markets June through October and an indoor market once a month November through April, too. The website includes a helpful graphic showing what is typically available at which times of the year along with specific details about the hours of the market each day it is open. The market includes items that are not seasonal like bakery items, meat, maple syrup, and dairy products-including cheese, of course. (If you don't know about Wisconsin and cheese, you NEED to visit!) For us, the fresh produce is the star, but we do often enjoy non-produce treats from a bakery vendor or local food truck, too. Enjoying these treats makes our trip to the market even more fun. We suggest you leave room for cheese curds from Live Great Food, egg rolls from Egg Roll Express, and a kolache from Bohemian Ovens at the minimum.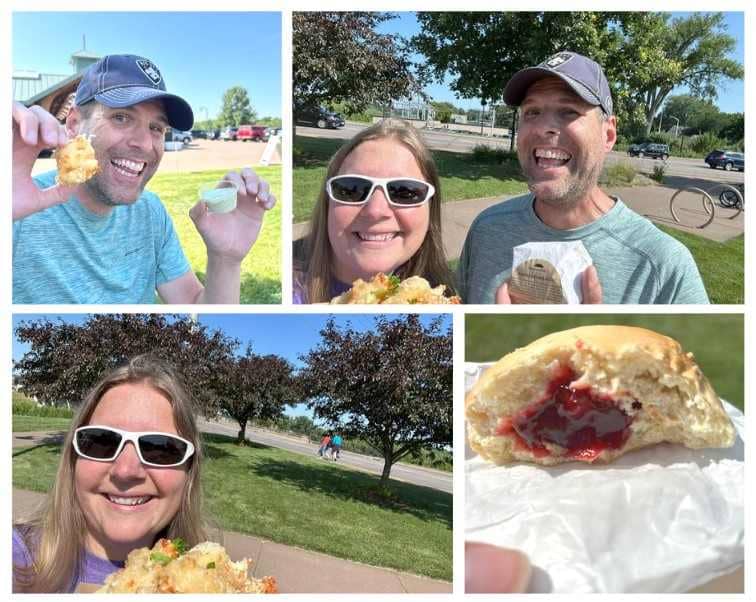 Angie and Jeff with Live Great Food cheese curds and Bohemian Ovens raspberry kolache.
The Eau Claire Downtown Farmers' Market also goes far beyond just produce. Saturdays include live music, an artist's market, and various activity booths for kids of all ages. A favorite of ours is our Eau Claire Public Library's BookBike. By the way, who doesn't love public libraries? They are another place we frequent both at home and when traveling. Libraries and the people who run them are magical. Eau Claire's public library has a miniature mobile library on a bike that makes appearances throughout town, particularly at community events. In our experience, we always find the BookBike at the Eau Claire Downtown Farmers' Market on Saturdays. In addition, you may find the Eau Claire Public Library sponsored Dabble Box Maker Space or the Pablo Center sponsored Art Mobile set-up for kids of all ages to enjoy creating. If you're more interested in perusing and purchasing the art of others instead of creating your own, explore the great Artist Market for new treasures from local artisans. Looking for a fun miniature scavenger hunt activity? See if you can find the farmers' market sculpture that is a part of the Sculpture Tour Eau Claire, the largest sculpture tour in the nation.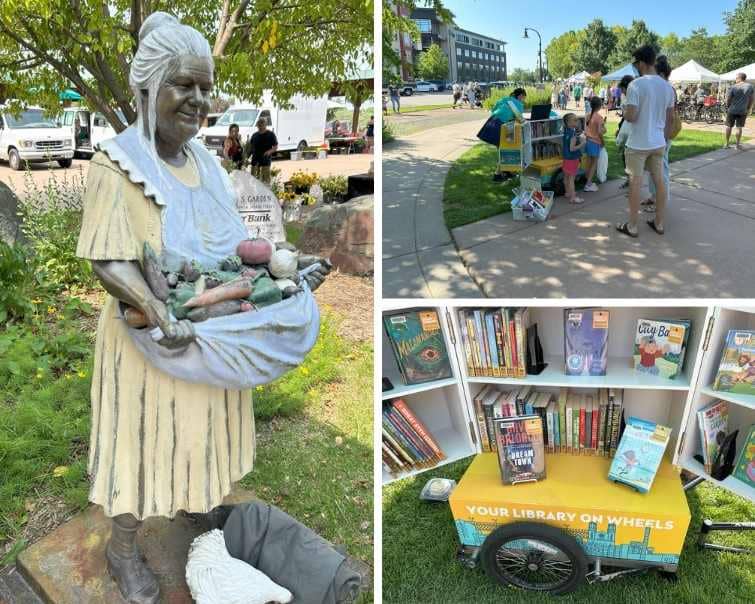 Eau Claire Public Library Bookbike, Artist Market, and Farmers' Market Sculpture from the Nation's Largest Sculpture Tour.
Even if you are not looking to purchase produce or peruse art, just admiring the beautiful flowers grown by our local farmers and arranged in bouquets and taking in the beautiful setting on the banks of the Chippewa River are even more reasons to visit the Eau Claire Downtown Farmers' Market. Especially if you come early in the morning of the market hours, you will see rows and rows of stunning and artfully arranged flower bouquets at several of the booths available for sale. A money saving tip is that these bouquets are as stunning, if not more so, than the options you see at a traditional florist and often for a fraction of the cost. We often stop at the market in the summer months for special occasions or host gifts for sometimes as little as $5!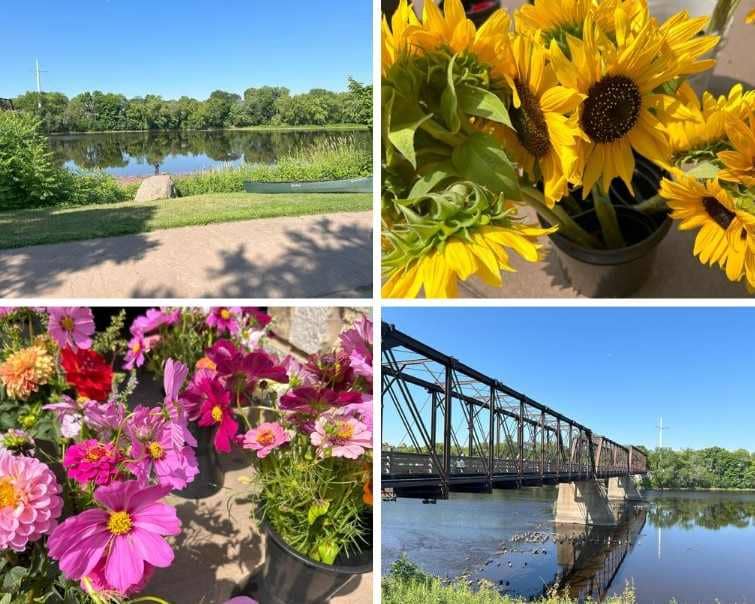 The scenic Chippewa River and beautiful flower bouquets at the Eau Claire Downtown Farmers' Market.
Speaking of money saving, the line between thrifty and cheap is an argument…err, discussion in our house periodically. If you call Jeff cheap, and many do at times, he will quickly tell you he is not cheap, but value-oriented. For him, this means he is willing to pay a higher price for things or experiences as long as he feels the value is there. Angie would generally agree this is true of him, though there are times when he is just plain cheap, too, in her opinion. Visiting the market can trigger some of these types of conversations because while the items are very fairly priced for how hard the growers have worked to bring them there and in comparison to other farmers' markets we have visited around the world, they can't always compete with the produce deals in Jeff's favorite grocery store, Aldi. We reconcile this conflict (or sometimes Angie just reminds Jeff if it is a 'cheap' day for him) by remembering one of our core values is supporting our local small businesses, knowing the produce was likely picked that morning and not shipped across the country before reaching us, and valuing the interaction with the person who grew our food and the ability to directly support their work.
As we mentioned earlier, a benefit to the slightly smaller size of the Eau Claire Downtown Farmers' Market as compared to a market like that in Madison is the ability to engage with those growing your food without them worrying about a massive line forming behind you as you speak. On a recent visit to the market, we spotted a beautiful purple vegetable we didn't recognize. (Honestly, there are several at the booths there that we don't know or only know as prepared for us in a restaurant because of the amazing diversity of our local farmers introducing items from their culture to the market.) When we saw this beautiful purple produce item next to what we recognized as eggplant, we stopped to ask the booth owner what it was. She explained it is known as Asian or Thai Eggplant. She excitedly shared that she likes to saute it with cilantro and chili pepper flakes, cautioning us that we should only do the same if we like it spicy. Where else can you get this kind of food adventure and learning for $1? We were in.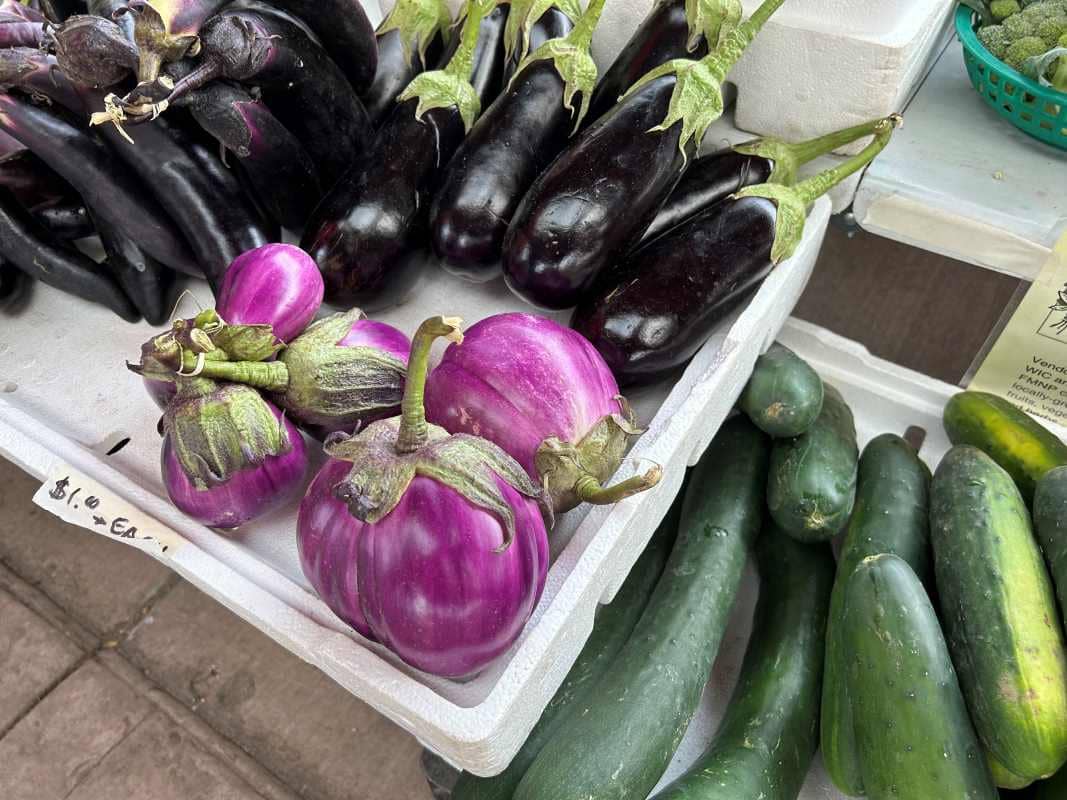 This particular conversation with this wonderful woman reminded Jeff of the days when he was small and his Grandpa was a produce manager at a well-known Water Street grocery store at that time, Kerm's. Jeff often recalls fondly stories of his Grandpa sharing different, and at that time to him, exotic fruits and vegetables with him as a child. Jeff remembers his Grandpa showing him the very first Kiwi fruit he'd ever seen when he was about 6 years old and his Grandpa excitedly explaining to him that it was a new fruit they'd just gotten into the store from far away lands. We both pondered how this type of accessibility to knowledge and passion for the produce you're purchasing doesn't often exist in our grocery stores anymore. But, do you know where you can definitely still find that passion? Yep, Eau Claire Downtown Farmers' Market! Something about this interaction with this grower felt comforting, nostalgic, and old-fashioned in the best possible sense. To us, that's an experience that we're willing to pay a premium for, but in this case, it was $1!
In preparation for this post, we documented how much we were able to buy at the Eau Claire Downtown Farmers' Market for $20. We weren't terribly careful about ensuring we had the least expensive version of each produce item. Instead, we just meandered through the market and selected items of interest from about five different vendors. In the end, we had 17 pounds (yes, we weighed it) of produce including yellow carrots, red potatoes, beets, radishes, onions, zucchini, yellow squash, cucumber, and we can't forget that Asian eggplant all for only $20.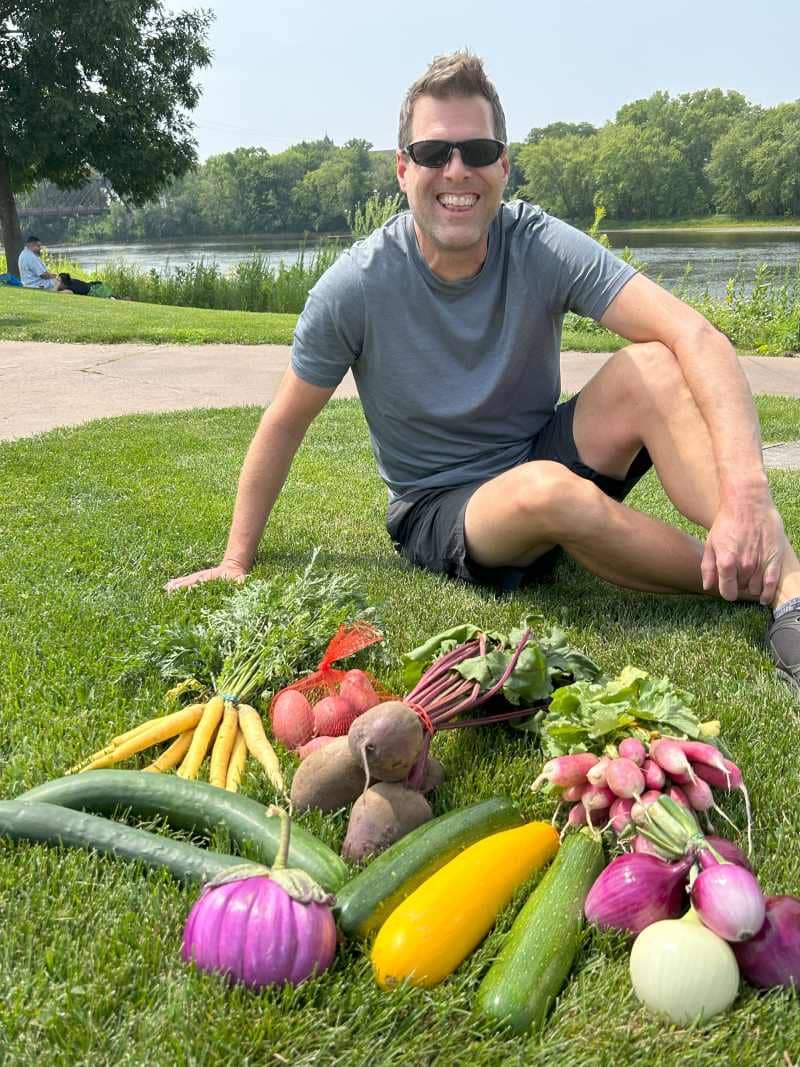 Jeff with our 17 pounds of produce from the Eau Claire Downtown Farmers' Market for $20.
Jeff loves to cook and experimented not only with this Thai eggplant but also made use of the carrot and beet greens, too. This visit to the Eau Claire Downtown Farmers' Market will provide delicious, healthy food along with new knowledge and experiences for the upcoming week, too!