Beautiful, Blooming Sunflower Fields Near Eau Claire, WI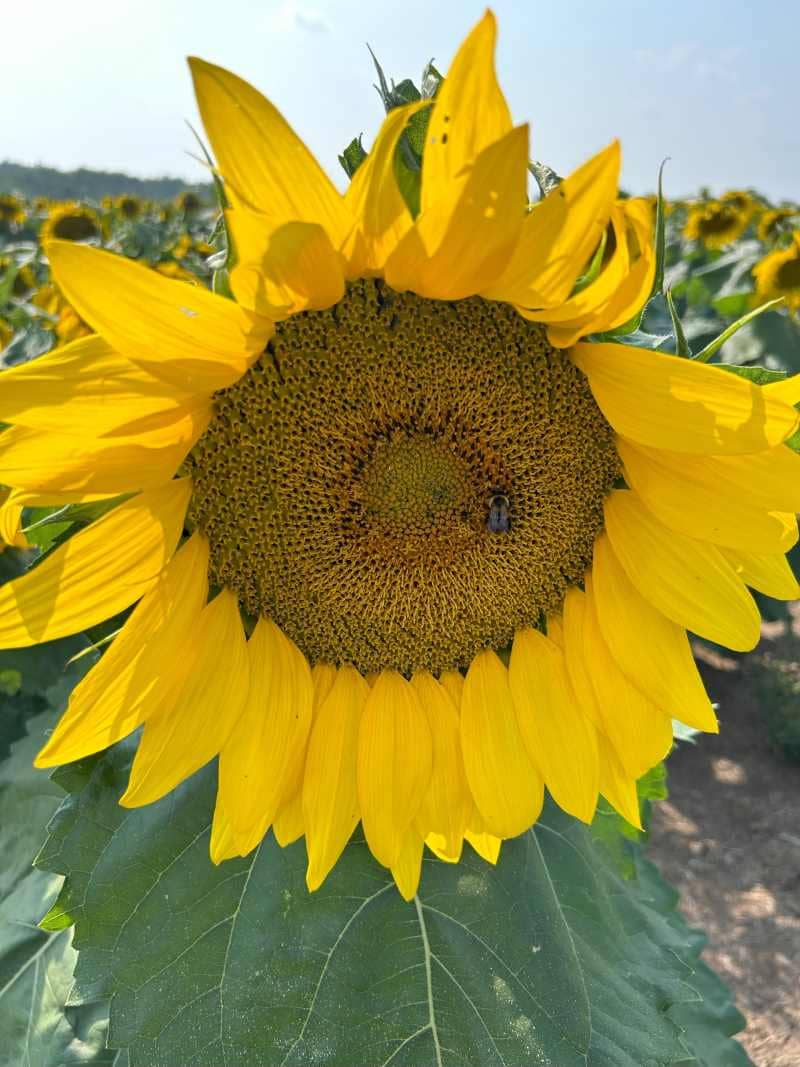 Sunflower Close Up with Bumble Bee.
Who doesn't love sunflowers? I know they are my favorite flowers because of how it is impossible for me not to smile when looking at them. For the last several years, Babbette's Seeds of Hope has given me something to look forward to in August in the form of a blooming sunflower field to wander in and enjoy. And, that time is NOW!
Where to Find the Sunflowers
The blooming field is smaller than it has been in past years when the flowers used to line both sides of Highway 85 just south of Eau Claire, but they still make me just as happy. The field is a few miles south of Eau Claire near the Eau Claire and Dunn County line just a bit off Hwy 85. Drive south of Eau Claire on Hwy 37, take the right to follow Hwy 85 towards Durand and a few miles down on your left, watch for Fuller Road, which I spot by noticing a sign for a local quilt shop on that corner. Turn left on Fuller Road and just a short distance down the road, you will see the sunflower field on the right next to a small dirt area to park while you enjoy the flowers.
We were just out there and were completely alone in the field at the time. We enjoyed watching the big bumblebees fly from flower to flower. When we stood still and were quiet, you could hear the sound of those bumblebees humming all around. Being surrounded by that many bees can bring me some anxiety as someone who has made it this far into life without ever being stung, but these slow moving bumblebees did not seem concerned about our presence and I felt joy observing them instead of fear. If you have a bee sting allergy though, you may want to assess if this is the activity for you. One other note, I wore my favorite sandals on the day we visited and would likely wear closed toe shoes for a return visit. We had to walk through a small bit of what looked like a grassy area, but was really an old portion of a corn field and there were quite a few sharp and poking remnants of corn stalks that I had to be very careful of for my exposed feet. Oh, and they were pretty dirty after the visit, too.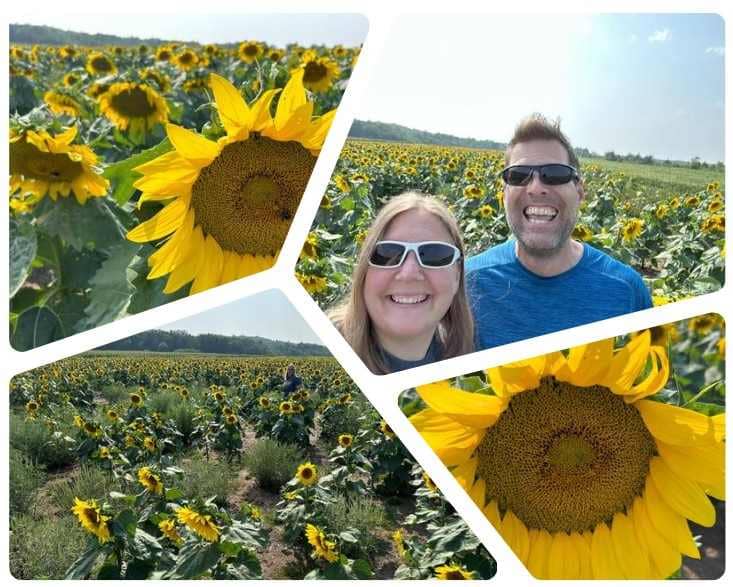 Enjoying the Sunflower Field.
The Backstory Behind the Sunflowers
As I said, I see sunflowers as complete joy; but the backstory behind these particular sunflowers is both sad and hopeful, in my opinion. Babbette, for whom the Seeds of Hope are named, was a beloved mother and wife who lost her fight with cancer after a many year battle in 2014. Her family started the sunflower fields in memory of her and the sweet tribute has now evolved into the Babbette's Seeds of Hope Fund, run through the Eau Claire Community Foundation, raising money for cancer research and to support those currently fighting cancer. While there is no pressure to do so, if you feel moved by this cause, you can donate to support the fund here in memory of Babette and as a thank you for the joy the sunflowers bring you.
Beautiful Sunflowers Everywhere.
More Sunflowers Yet to Bloom and a Maze
While the sunflower field mentioned above is already in full bloom at the time of the writing of this post, which means if you want to see it-you should hurry! There is another opportunity to enjoy sunflowers in the very near future just down the road from the Fuller Road field. That field of sunflowers is not yet blooming but can be found at Jaquish Farms which cannot be missed on your drive down Hwy 85 towards Fuller Road because it is marked by a giant sunflower made of stacked hay bales. They are providing regular updates on the height of their sunflowers and progress towards full bloom on their Facebook page.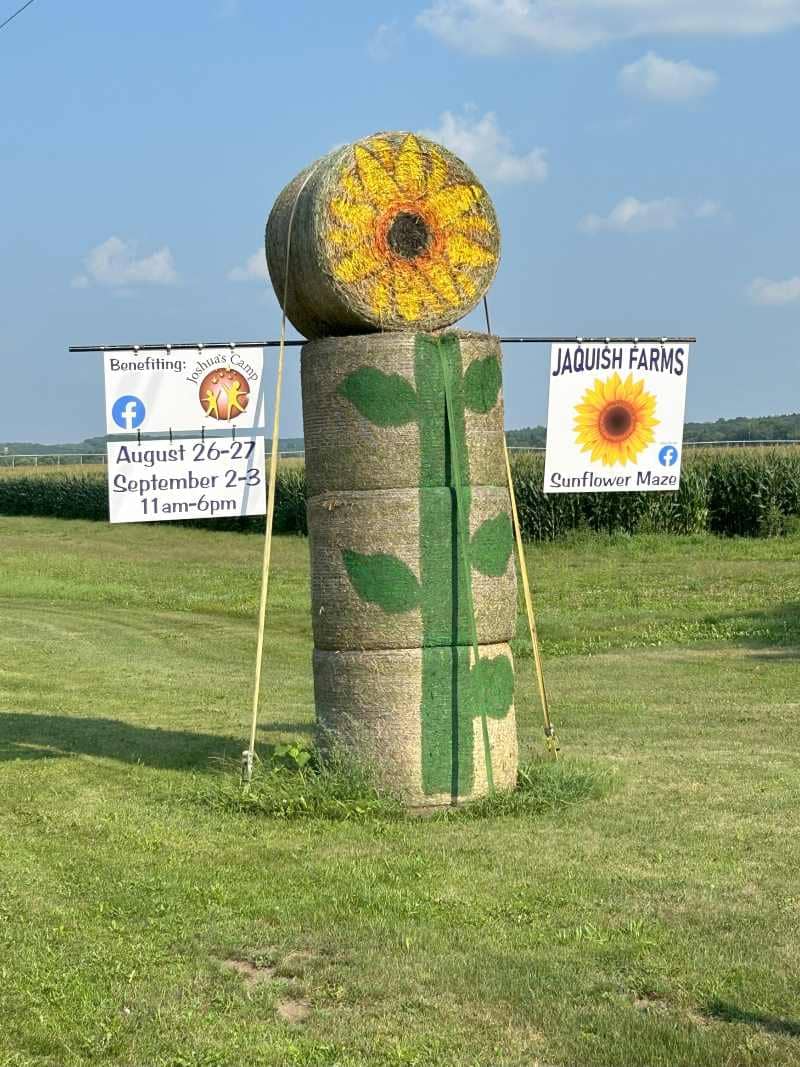 Jaquish Farm Sunflower Tower.
An Opportunity to Support Another Touching Local Cause
Jaquish Farms is scheduled to open their sunflower maze on Saturdays and Sundays from 11 a.m. to 6 p.m. August 26 through September 3, 2023. The cost to visit is $7 per person or $25 per car to raise funds for Joshua's Camp, a local non-profit that provides a free, fun retreat to children fighting cancer and their families. If you're driving out to the maze, please note their operation is weather dependent so hope for good weather those weekends they are scheduled to be open.
The sunflower maze at Jaquish Farms includes other fun such as antique tractors throughout the maze, tractor rides, children's activities, food for purchase, and an ability to purchase sunflowers you pick yourself in their picking patch.
We're hoping for sunny weather on those weekends so we can enjoy a day at the farm wandering the maze of sunflowers and supporting Joshua's Camp at the same time. See you there!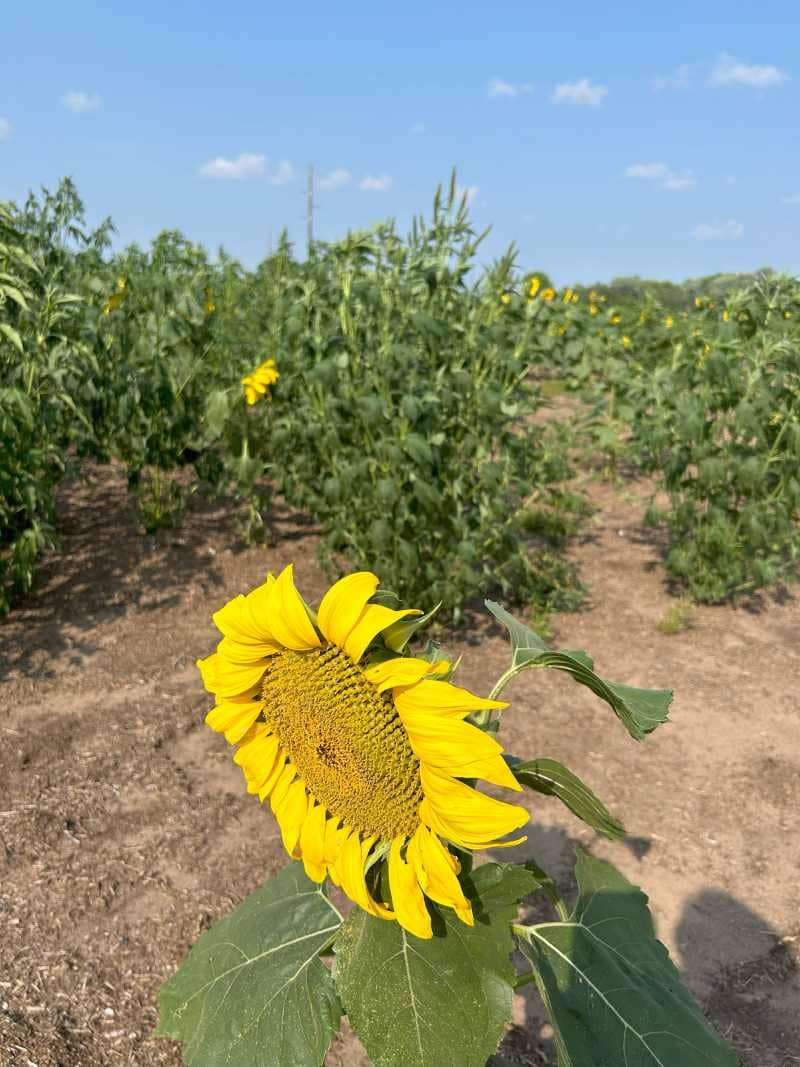 We both enjoyed this sunflower facing the opposite of all the others and was the only one facing the afternoon sun while we were there.